Bienvenue sur le site de notre élevage familial de Golden Retriever situé aux trois frontières. (LU-DE-FR)
Welcome to our Golden Retriever kennel website. We live in France (near Luxembourg)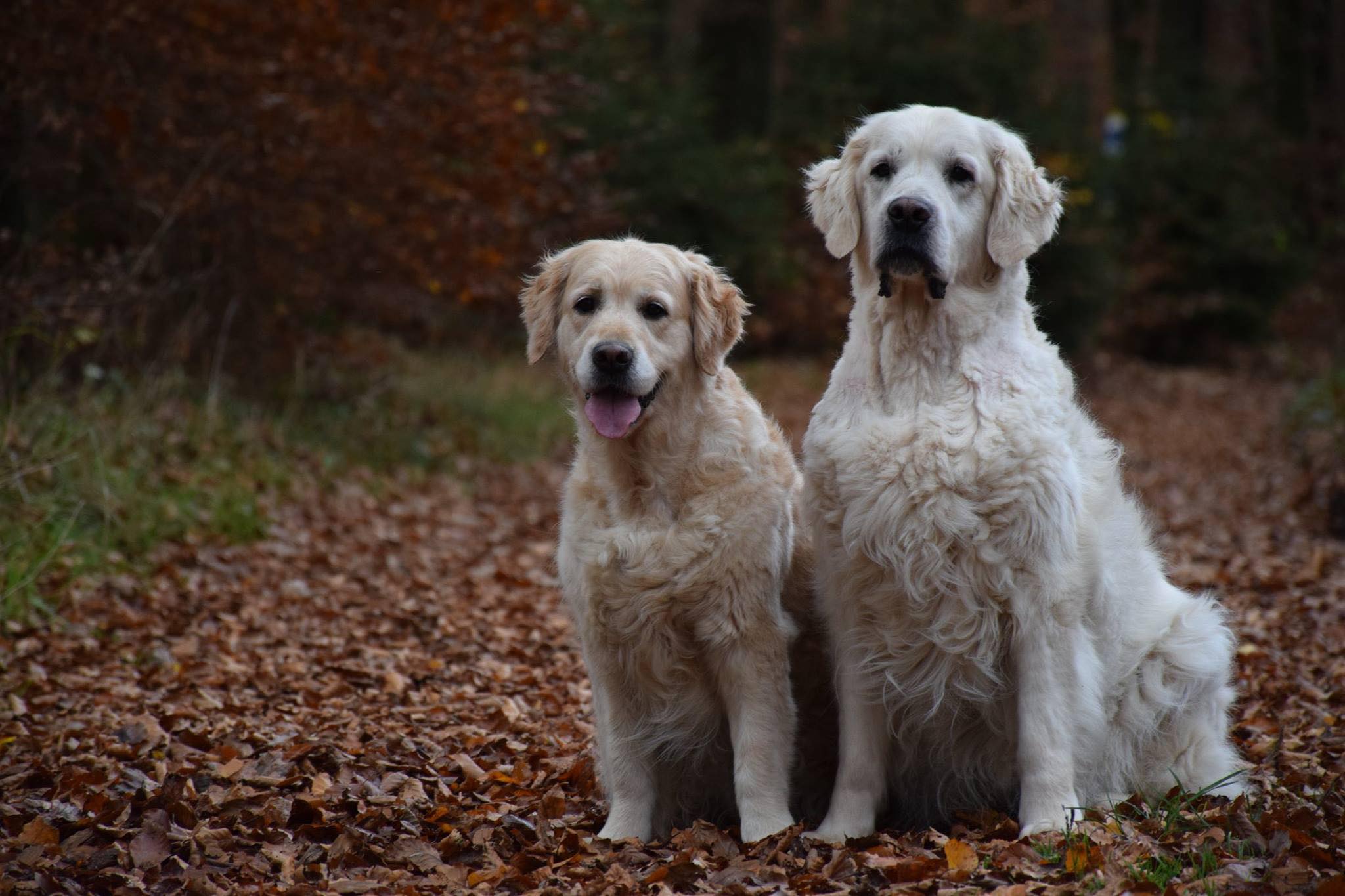 (Photo) : Ghalia et Enée représentent le début de ma passion et de mon affixe « GHENALIA » (élevage reconnu FCI – chiots avec pédigrée) Malheureusement, Enée nous a quitté le 23.08.2017.
(Picture) : Ghalia and Enée represent the beginning of my passion and of my kennel name « GHENALIA » (FCI kennel – puppies with pedigrees) Unfortunately, Enée dies the 23.08.2017.
Nous parlons luxembourgeois, français, allemand, anglais et néerlandais.
We speak Luxembourgish, French, German, English and dutch.
2018:
15 et 16 décembre Field Muncq (France)
Eden: Eliminé (Mme Leloup) et Bon (M Pfeiffer)
Iwé: Eliminée (M Pfeiffer) et Retirée (Mme Leloup)
9, 10 et 11 novembre Geneve (Suisse)
Eden (ouverte)
Friday: 5 Excellent
Saturday: Excellent
Sunday: 4 Excellent
Umba (travail)
Friday: 3 TB
Saturday: 1 Excellent CAC
Sunday: 3 TB
3 et 4 novembre Metz
CACS Speciale:
Eden: 1 Excellent Ouverte CACS
Ghalia: 1 Excellent Vétéran
Umba: 2 Excellent Travail
CACS CACIB:
Eden: 1 Excellent CACS
Ghalia: 1 Excellent Veteran
Tao: 2 Excellent Jeune
27 et 28 octobre Field Trial Lezey (France)
Eden: Bon (M Lammens) et Eliminé (Mme Lanza Frank)
Iwé: Non Classé (Mme Lanza Frank) et Très Bon / Barrage (M Martin)
15 octobre La Romandie Clubshow (Suisse)
Eden: 3 Excellent ouverte (11 entrées)
07 octobre CACS CACIB La Louvière (Belgique)
Eden: 2 Excellent RCACS RCACIB
06 octobre CACS CACIB Douai (France)
Eden: 1 Excellent RCACS
29 septembre Selectif B – Chatillon la Palude
Eden: Admis
08 septembre Nationale d'Elevage Aubigny sur Nère (Clubshow France)
Eden: 4 Excellent (Open Class)
Mamselle Mila of GLE: 3 Excellent (Classe Inter)
19 aout Strasbourg Hoerdt CACS
Eden: 1 Excellent CACS BOS Meilleur Mâle (Open Class)
04 aout 2 expositions Kreuzlingen (Suisse)
Matin Eden: 4 Excellent (Open Class)
Après-midi: 2 Excellent RCAC (Open Class)
22 july NE Clubshow Mertert
Eden: 2 Excellent RCACL (Open Class)
15 july Dunkerque CACS CACIB
Eden: 1 Excellent CACS CACIB BOB BOG3 (Open Class)
Ghalia: 1 Excellent, BOB Veteran, BOS Best female 11 years
1 july Joinville CACS
Eden: 1 Excellent CACS BOB (Open Class)
Ghalia: 1 Excellent, BOB Veteran, BOS Best female 11 years
Tao: 2 Very Promising (Puppy Class) 6 months
RE Rieulay
Eden: 2 Excellent CACS
3 june Championnat France Paris CACIB
Eden: 3 Excellent (11 entries)
Ghalia: 1 Excellent, BOB Veteran, CHAMPIONNE VETERAN DE FRANCE
20 may CACS Lac de Madine
Tao: 1 Very Promising, Best Baby, Shortlisted in 6 of BIS Baby
Eden: 1 Excellent, CACS, BOB (Open Class)
Ghalia: 1 Excellent, BOB Veteran
7 April CACIB Luxembourg
Tao: 1 Very Promising, Best Minor Puppy Male, Main Ring (Baby class)
Eden: Excellent shortlisted (Open Class)
2 April GRCB Baby Veteran
TAO: 2 Very Promising (baby Class)